G Suite (formerly Google Apps)
Experience a smoother way to manage info and collaborate – all your favourite productivity and communications apps now on the Cloud.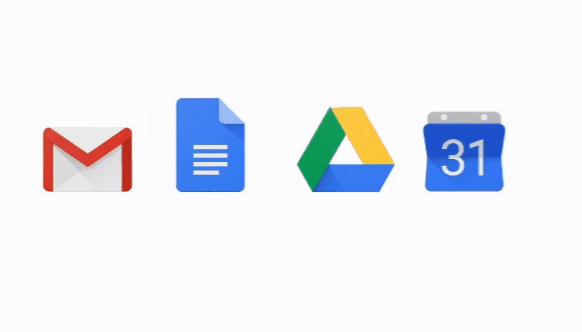 Google rebranded Google Apps – their productivity tools – to G Suite. By moving your files to the cloud, you can worry less about file loss. What's more is that you can share your files, docs with your team while restricting access to outsiders.
Computing platforms and locations is no longer a barrier to workplace collaboration meaning you can use any device and browser.
Why Use G Suite for Business
Collaborate More
Move to G-suite and help your team adopt a more collaborative work approach. Staff can work remotely on the go. Transition is going to be smooth and you won't lose any business hours.
Pay for what you use
No surprises for SMEs. Google bills for the apps or services you use only. Start with a free tier (7 days) then go enterprise. Keep costs down even at peak performance with economical Cloud solutions.
Move between apps easily
Get access to a set of integrated apps. Receive an email, convert it to a calendar event. Launch a video meeting straight from your inbox. See and reply to comments in docs or sheets in real time.
G Suite for Business in 4 Simple Steps
As a Google Partner, can help you implement and manage Google Apps for Business in four easy steps.
Deployment planning
To assess your network's capability and readiness and to see if there any issue that needs fixing before we roll-out the apps.
Emails & doc integration
Prepare and migrate your documents, folders, emails, and contacts to Google Apps so you can start working remotely.
User training
Post migration, our G suite experts will train your staff on how to leverage G Suite for Business so they can become productive.
G suite helpdesk
Just in case you get stuck with day-to-day administration or have problems syncing your emails, docs, while using G Suite.
Common Questions on Google Apps
Here are some Frequently asked questions related to G Suite. If you have another question, get in touch.
Yes, G suite has built-in migration tools that lets you import your old emails from Microsoft or IBM Notes and other email platforms.
Users get 30 GB of cloud storage across Gmail and Google Drive. For an additional fee, you can upgrade to unlimited storage.
We can help you understand the actual cost of moving to G Suite. Experts are on hand to do an appraisal and give you a free estimate.
Yes, you get 14 days to test-drive G Suite services. Sign up and create accounts for up to 10 users. But first, you have to add your billing details before you can set up your account.
G Suite is free of ads and lets you set up your personalized @yourcompany.com email, group emails, and sync with other emails. Storage space is twice that of free email and support is available 24/7.
G Suite comes with enterprise-level features, which are not included with free Google services like custom emails, more storage, 99.9% guaranteed uptime, and additional security options.